今日は予報通り寒い!特に帰りは寒くて死にそうになりました。明日はしっかり着込んでいこう。
ところで、今日のThe Timesに出ていた興味深い記事。実は、今日のタイトルはその記事の一部。そのまま直訳すると、「ネコ(あるいはビリヤードのキュー)を振り回すスペースもない」という意味になるんですが、タイトル全文は、以下の通り。
No room to swing a cat (or a cue) in the 12ft x 6ft flat for sale at £170,000
(直訳) ネコやビリヤードのキューを振り回すスペースもない4畳一間のマンションを4000万円で販売中
なお、12ft x 6ft = 3.6m x 1.8m = 6.5平米 = 4畳、という計算になっています。あと、£1 = 240円で計算しています。
ロンドンの不動産価格は異常だとは思っていたのですが、ぼろぼろで20年以上物置として使われていた地下の4畳一間が4000万ですよ!もっとも相場の2倍とは書いてありますが、それにしても高い。しかもこのフラット、我が家から徒歩10分だし。。。
実は、10年前に私の住んでいたフラットの大家さんが、留学を終えて日本に帰る際に800万円ぐらいで買わない?と聞いてきたのですが、お金がなかったし、ロンドンに戻ってくるかどうかも分からなかったので断ってしまった。もし、あのとき買っておけば今頃5000万円ぐらいになったはず。。。ううう。失敗した!
なお、この物件の間取り図は以下の通り。ネコがちとかわゆい?というか、可哀想かも。あはは。
この値段にもかかわらず、すでに買い手が3人もいるのが恐ろしい。いったい何を考えているんだ、ロンドンの人たちは。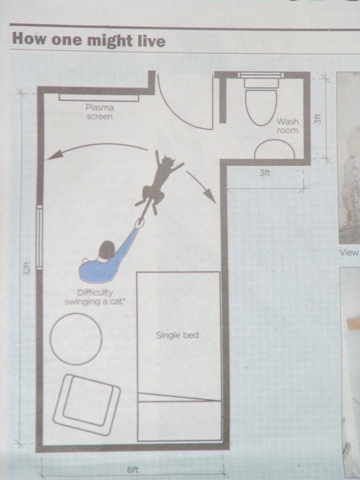 以下、The Times.comより抜粋
***********
No room to swing a cat (or a cue) in the 12ft x 6ft flat for sale at £170,000
As boltholes go, there is more than enough to make you bolt. A room the size of a snooker table and which has been a janitor's storeroom for almost 20 years has just gone on the market as a one-person flat. The record-breaking asking price? A startling £170,000, plus up to £30,000 to make it habitable.
At just 6ft by 12ft long — plus a cupboard to shower in — the residence, in Chelsea, West London, is the smallest individual property ever to go on sale in Britain. At more than £2,000 per square foot — not including refurbishments — it is also almost double the rate for houses in the centre of the city.
The basement room at 18 Cadogan Place, which is full of rubble, has not seen a decorator's brush since the late 1980s. It has been used for storing building materials since it was vacated by a caretaker and will need rewiring, repainting and a new kitchen and bathroom. The "kitchenette" occupies a tiny alcove, while the "bathroom" is a shower in an ensuite cupboard, described as the size of a sidetable.
But the property does offer the chance to develop a miniature, minimalist apartment in one of the most prestigious areas of London.
Jason North, associate director at Lane Fox, said that it would be perfect for a resident who needed room for a housekeeper or au pair. But it has also attracted interest from those who need a cheap space during the week, and from buy-to-let investors, who could let it at up to £150 per week.
With refurbishment work done, the price will rise to almost £2,400 per square foot. The average price per square foot is about £1,200 in Central London, just £232 in Brighton and a piffling £147 in Leeds.
The flat is a fraction larger than that thought to be Britain's smallest, a 62 sq ft former cupboard at Pembridge Villas, Notting Hill, which was valued at £100,000 two years ago but which has yet to come on the market. The recommended minimum for a prison cell is just under 60 sq ft.
The Cadogan Place flat was put up for sale on Wednesday morning; by Friday it had had three offers. The agents are conducting viewings by torch light. It has a door leading on to a lightwell which the buyer may be allowed to use as a "sort of courtyard". The property also boasts, if that is the word, a separate window. It would be unwise, therefore, to bring along the proverbial cat, not least because there would be no room to swing it (and yes, we do know that the " cat" in the saying is the cat-o'-nine-tails).
The hunt for Central London properties has grown ever fiercer. Prices in locations such as Chelsea, Knightsbridge and Mayfair rose 23.9 per cent last year, while family homes in the area were up 46.4 per cent.
The average house price in England and Wales is now £172,006, up almost 7 per cent in a year, according to the Land Registry. However, data from the property website Rightmove, published today, suggests that the figure has reached £222,859.
The flat is owned by the other residents in the building, who put it on the market to recoup costs from their purchase of the freehold — which they plan to share with their new downstairs neighbour.
This is yet another example of the sky-high prices people will pay if the location is right. A dilapidated garage on the Sandbanks Peninsula in Poole, Dorset, was sold in November 2005 for £250,000. Three months earlier a two-car space in Notting Hill went for almost the same sum.